COMPETITIONS
A Competitive
Edge
Nail competitions are a great way to go up against
the top technicians in the nail industry. Whether you are a seasoned veteran contemplating on joining a competition to improve your skills or entering your first competition, you'll be able to learn from the best in the business!
BY GELISH
13 January, 2023
One of the coolest things about being in the nail industry is the opportunity to enter competitions. It's a way to better your skills and put your name on the map. Competitions range from international to domestic and can be completed online or in-person. We spoke to NAILS Next Top Nail Artist Season 9 champion and salon owner/educator Nicola Sawyer as well as the global director for Nailympia competitions, Alex Fox, to get their winning advice.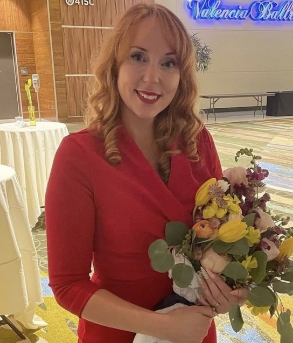 ---
Nicola Sawyer, after her big
NTNA Season 9 win at
Premiere Orlando on
June 5, 2022.
You don't have to enter an international competition off the bat. "Lots of nail pages and brands run weekly or monthly nail challenges. These are a great way to start flexing your artistic ability without a huge time outlay. It's also beneficial for the feedback you will get on your work," recommends Sawyer, who started out by entering a smaller competition three years ago via Scratch Magazine.
If You're Unsure About Your Skillset
Both Fox and Sawyer point out that taking more classes can help you fare better in the competition circuit. Sawyer says she opted for photographic and extreme length courses. Fox recommends competition classes that give special hints and tips to help you reach specific goals faster than through trial and error.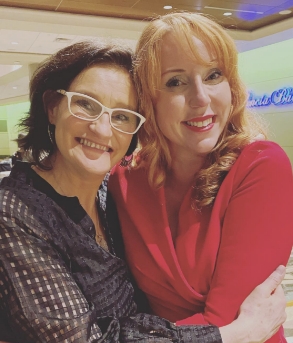 ---
Alex Fox and Nicola Sawyer
after Sawyer's big win.
How to Decide Which Competition to Enter
"I always look at the quality of previous submissions. If I'm taking the time to enter a competition, it needs to stretch my abilities. I need to look at the other competitors' work and think ' WOW !'", recommends Sawyer. If you're new to competing and want to try your hand at many different categories, Fox recommends entering Nailympia at the Division 1 Level. "If entering a competition like Nailympia, bear in mind that you can only ever be in Division 1, once, so it's best to enter as many comps as you can, so you make the most of this division," she says.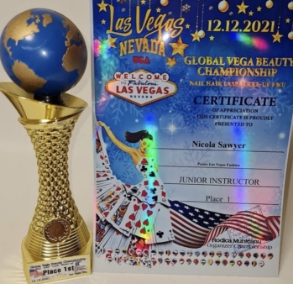 ---
Some of Sawyer's recent
trophies.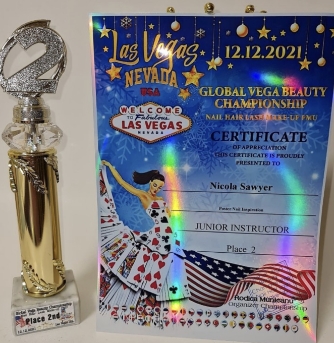 Why You Should Give it a Try
The benefits of competing are endless. "For nail professionals that want to explore their own creative avenue, it's a great way to challenge themselves. Plus, they get to see what other ideas and innovations are being used around the world by other techs and they get to network, get industry acknowledgement, and can grow their salon business by marketing the fact they are competing. A medal also helps them extend their menu and up their prices. It can also open many other doors in the nail industry that they may not have considered such as being a brand ambassador, educator, designing posters, editorial shoots, advertising campaigns, and fashion week teams too," says Fox. Sawyer points out that you don't need a win to successfully compete: "My favorite part of competing is when you finish your piece and you know you have done your absolute best; that there's nothing you would change, and even if you don't place, you have accomplished something you have never done before."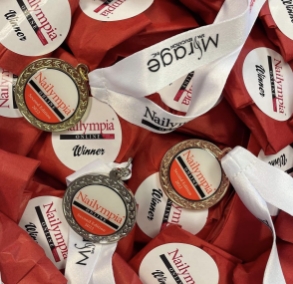 ---
Nailympia offers both online
and in-person competitions all
over the world. Both online and
in-person winners receive medals.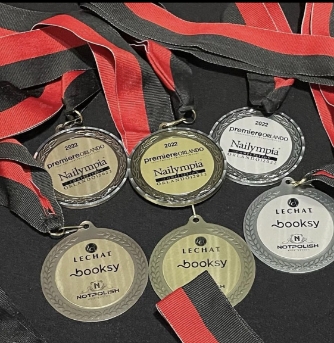 How To Balance Competing and Work
Before throwing your hat in the ring, try to have a game plan in place. Prepare yourself for the potential stress and toll competing can take. "For smaller competitions try blocking a little time out every week from your schedule to work on your pieces. Having dedicated time in your diary helps structure your personal development," advises Sawyer. She warns, "You need to look after yourself too. A tired nail artist makes mistakes. Ensure that your working area is well lit, your seat and desk are comfortable, you have good ventilation, and take regular breaks. Trust me, your brain only runs on coffee for a limited time!"
Even seasoned competitors can second guess themselves. When your confidence starts to dwindle, Fox wants you to remember the following: "Don't let anyone take you off your path, focus and believe in yourself. Compete to see what you can achieve and don't worry about what anybody else is doing. This is your experience. Enjoy it!" Sawyer offers these words of encouragement: "Just do it! You may place, you may not, but it really is about the journey and attempting nail art techniques that you would't normally have time to do."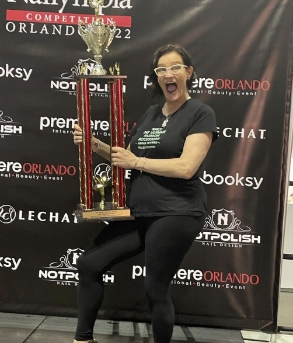 ---
Dream big! Winners who
compete at Nailympia can go
on to win trophies like this for
being the individual top scorer.
The act of competing can pay off in many different ways once a competition is over. When asked how it feels to win, Sawyer shared, "I can only compare it to the feeling you got as a child at Christmas…It's amazing to be recognized for your skills by your peers.

Winning NTNA was on another level. 'Disbelief' would be the first word, then excitement, then realization that all that hard work had finally paid off. It's clearly been the highlight of my career so far." Fox says, "Competing brings highs and lows that generate feelings. It's emotive and exciting, it's full of flavor and intensity and it's downright exhilarating. It's a powerful experience that all techs that truly love their nail craft should try out at some point in their career."

If you've competed before but are working up the nerve to get back into it, Fox offers the following words of wisdom, "Remind yourself why you love nails. Feel the power and buzz that nails gives to you and go and share that in the arena. You'll be around like-minded people, your peers, and surrounded by people that want you to be the best you can be. It's only you that's holding you back. Another person's nails is their experience. This is yours - so get out there and show us what you can do and 'wow' us with your skills, talent and creativity. This industry needs you - we need to elevate and create together. So get your competition head back on and show us your style. You just never know - a medal could be in your hands very soon. And that feeling is sensational."
First time competitors should seek out a like-minded mentor to guide and motivate them through the process.
When looking for a model, seek out one who is patient with great nail beds, hands, and personality.
If feedback is offered, take it. At times it may be hard to swallow, but don't take it personally and build on what you have learnt.
Join a competition team. Collaborating with other nail artists can be fun and amazing for your own personal development.
Avoid competitions that look like a scam. A small admin fee for entry is normal, but it shouldn't cost you more than what the top prize is to pay to enter.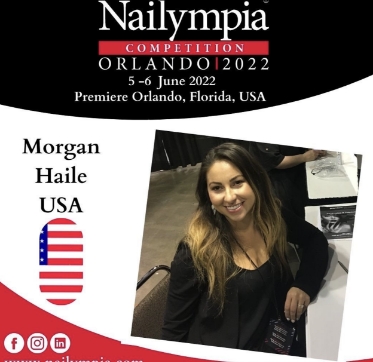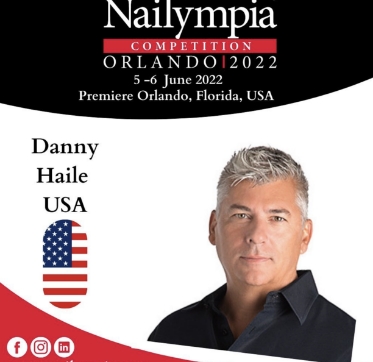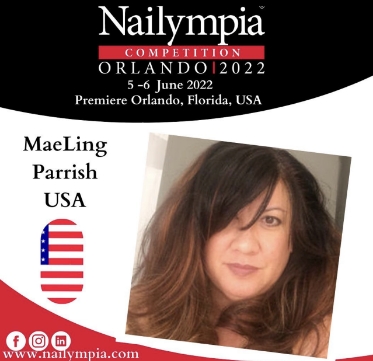 The Gelish and Morgan Taylor
teams joined in on the judging
at Nailympia Orlando and
London competitions this year.