If you haven't yet added Gelish No Cleanse Top Coat to your product lineup, perhaps now's the time. Here, Jesse Bruner, Dean of Gelish Education, takes us through what's new, different and sets this top coat apart from the rest.
---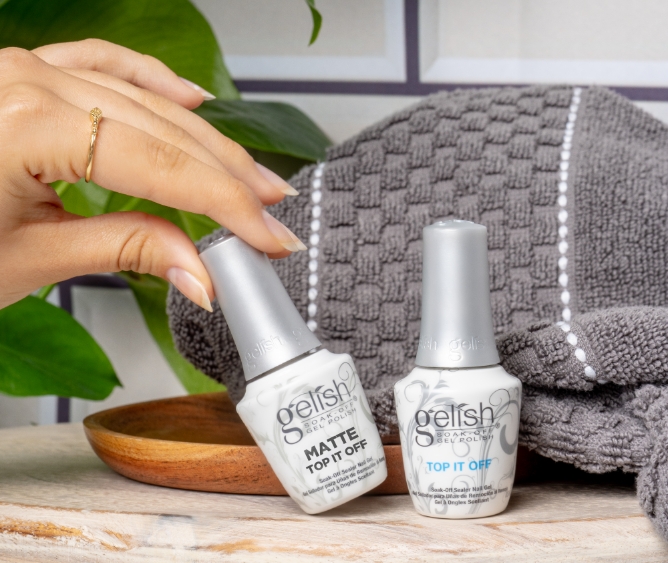 ---
What's the difference between Top It Off and No Cleanse Top Coat?
The biggest difference between No Cleanse and Top It Off is the viscosity. No Cleanse is slightly thinner, and it has more optical brighteners, which adds a slightly cooler tone to the finished result. It also requires a longer cure time at 1 minute under an LED, as opposed to 30 seconds.
Can I use No Cleanse with any type of enhancement?
This can vary by brand, but Gelish No Cleanse is flexible enough to use over any enhancements — including gel polish on natural nails — without cracking.
Are there any special tips or tricks I should know when using No Cleanse?
I have a great tip for working with No Cleanse and Gelish Chrome Stix. First, you'll want to apply a thin layer of No Cleanse and cure for 30 seconds, half the time as you normally would. Then, burnish in the chrome powder and cure again for another 30 seconds prior to sealing with your chosen top coat. Fully curing the No Cleanse prior to Chrome Stix can affect the coverage and durability of the chrome powder.
Are there any other ways I can use No Cleanse?
No Cleanse Top Coat is a great choice for any designs in which you would like to block the background and have no sticky layers, for example with embossed chrome designs or when creating a sugar effect using dip powders over gel. With delicate design work, it's ideal to not have to use cleanser, because this can spoil your small design elements.
---