Summer is pedicure season, which means you should be
making the most of this service by offering unparalleled extras. Not only will it keep your clients clamoring for more, but it'll also boost your bottom line. Simple additions, like the four mentioned below, may not seem like a big thing, but to clients it makes all the difference between a standard pedicure and feeling extra pampered.
---
Learn Reflexology. Before you get into the throes of summer, take a class on reflexology. Or if you're a salon owner, consider bringing an educator into your salon to teach your entire staff. This specialized type of foot massage is used to relieve tension based on reflex points in the feet. The best part of this add-on service is that it can be customized to each client's specific needs.
Offer Paraffin. Some consider paraffin wax to be an outdated service, but many clients haven't experienced all the benefits of it. Paraffin helps keep the skin soft and supple, imparting moisture to the skin, and it can even aid in the removal of dead skin cells. In fact, the only thing obsolete about the service is using a tub; instead place the paraffin in single-use bags that you can wrap around your clients' feet, and then dispose of them when you're finished.
Create a Pedicure Experience. Take a standard pedicure and turn it into a customized experience by offering a comprehensive package. Think: a complete sensory escape using sights, sounds, tastes and smells. For example, take your clients to Hawaii by offering them a piña colada (virgin or spiked) when they sit down. Fill the pedicure tub with a pineapple coconut-scented soak, and add tiny orchids to the water. Use tropical-scented scrubs, masks and lotions throughout the service, and finish with the option of adding a floral accent to one of the toes (hand-painted for the artistically-inclined or decals for a quick and easy option). You could even create a unique Spotify playlist that your clients can listen to while enjoying the service.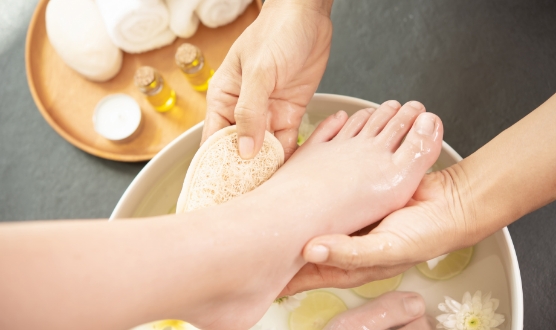 Consult Your Client. This may sound simple, but taking a couple of minutes at the beginning of the pedicure service to talk to your client about her specific needs and concerns takes a basic pedicure up a number of notches. Clients are willing to pay extra for a service that feels custom, so use this opportunity to add on things like callus care, extended massage and more!